The Beautiful Shell-Shaped Madeleine Cookie
By Renee Shelton
---
Madeleines are cookies baked in special shell-shaped mold pans which vary in size and shape. From the traditional shell shape, you can also find madeleine molds in other shapes (barquettes, ovals, etc.). Madeleines are great to serve as tea pastries, and since they are decorative make an easy addition to dessert buffets and holiday events.
The traditional shell-shaped cookies are known for their distinctive 'humps' on the opposite side of the shell decoration. Look for this in all Madeleines since when served the humps are usually up.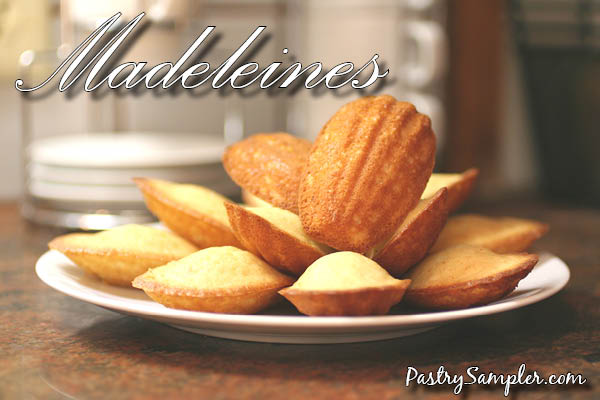 Here are some tips when making Madeleines:
I know it may seem to defeat the purpose of using such a beautiful pan, but the main object is to get the perfect hump on the cookies not the shell shape.
Serve them fresh.
Some batters may seem excessively thin, but as the butter cools it will thicken.
When using a recipe calling for orange or lemon zest, be sure to use a very fine grater and then only grate the colored part of the rind to avoid bitterness.
I prefer a pastry bag to pipe out the batter. Place a smallish round tip (I like to use Ateco 803 size) in a pastry bag and scrunch down some of the bag into the tip to stop up the hole. This is especially necessary if the batter is quite thin. Spoon the batter into the bag and twist at the top to close. When you are ready to pipe, un-scrunch the tip end of the bag and twist the bag a few more turns to allow the batter to come out and begin piping. When doing many at a time, it's a time saver and more efficient than spooning them or scooping them, although scooping is quite acceptable.
Let them rest just a moment after baking before turning them out since some recipes create especially fragile Madeleines.
If using a dark metal pan for the Madeleines, experiment with a couple to see how dark they become. You may need to adjust the timing or temperature to prevent overbrowning.
Madeleines may be dipped in melted chocolate before serving.
And remember: 'hump' and 'fresh' are the only two real standards for a Madeleine, so have fun experimenting and try adding your own flavors to your own favorite basic recipe.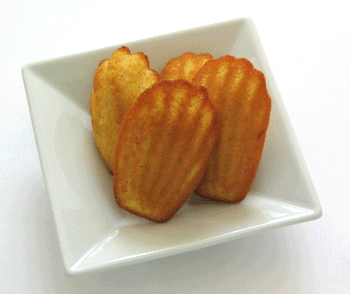 Recipe flavors vary widely. Many recipes for Madeleines have orange or lemon zest for flavoring, or use an orange flower water instead of vanilla extract. Almond flavor is popular in some recipes and those will typically have an almond flour base to them. Browned butter go well with both flavors (citrus and almond) and give the madeleines a nice malty flavor. One of the unifying factors for all Madeleine recipes is that it does contain whole butter, no substitutions for melted margarine here. If clarified butter is called for in a recipe, use that. Below is a recipe for Honey Lemon Madeleines, a pleasing flavor for these special cookies.
---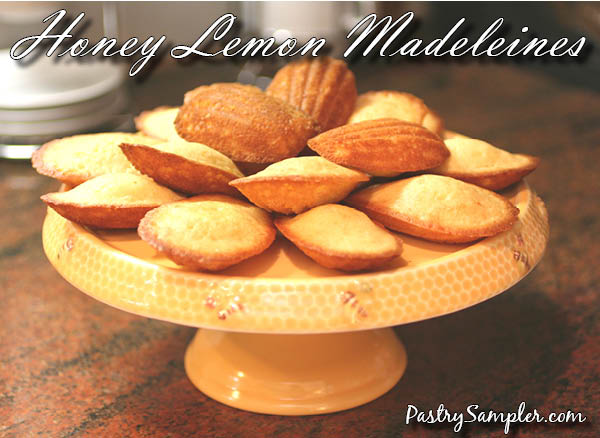 Honey Madeleines
This recipe calls for honey, brown sugar, and lemon zest. If making these for a holiday, try adding a pinch of spice to the dry ingredients.
3 1/2 oz sugar
1 oz brown sugar
3 whole eggs
1 oz honey
1 teaspoon fresh grated lemon zest
Pinch of salt
1/2 teaspoon baking powder
4 1/2 oz flour
4 1/2 oz melted cooled unsalted butter
Butter or spray chosen Madeleine pans. Preheat oven to 350°F.
Place the sugars, eggs, honey, lemon zest, and a pinch of salt in the bowl of a stand up mixer. Whip until light. Remove from mixer and carefully fold in the dry ingredients in two parts, then fold in the melted butter last. Spoon or pipe batter into prepared Madeleine pans and bake for 8 to 10 minutes, depending on the size of the pan and how well they are filled. Let rest a moment then turn them out on a rack to cool.
---
References used:
Healy, Bruce. The French Cookie Book. New York: William, 1994.
Recipe from the files of Renee Shelton.
Renee Sheltonon
---