What's the Difference Between Dark and Light Brown Sugar?
By Renee Shelton
---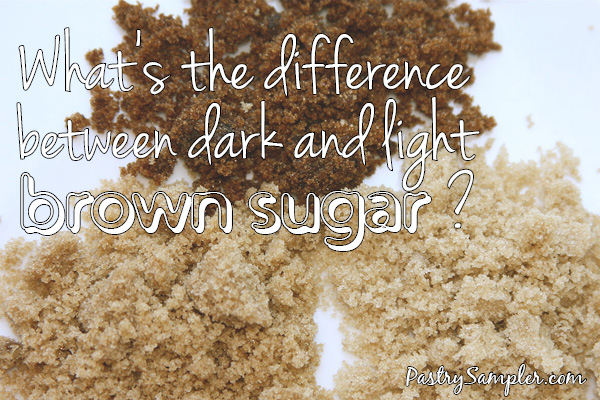 Are dark brown and light brown sugar the same thing? Yes and no. Yes, dark brown sugar is darker than the light brown sugar, but that isn't the only thing that separates the two. According to Cooking Ingredients by Christine Ingram, the difference in color and flavor depends on the amount of molasses present in the brown sugars.
The book, Professional Baking, goes further with the definition:
Brown sugar...contains varying amounts of caramel, molasses, and other impurities, which give it its characteristic flavor. The darker grades contain more of these impurities.
Brown sugar comes from sugar cane. Light brown sugar is popular for cakes and other desserts where a more fuller flavor is desired over white sugar, but where the color of the sugar would not be undesirable (such as a very white cake, for example). Dark brown sugar has a stronger flavor, is darker in color, and is great for gingerbread, chutneys, and fruit cakes.
Since all brown sugar contains a small amount of acid, when any brown sugar is combined with baking soda, it provides some leavening in baked goods. From the baking experts at King Arthur Flour, for every 2 teaspoons of baking powder, 1/2 teaspoon of baking soda can be substituted when the baking soda is combined with 3/4 cup of brown sugar in the recipe.
Two recipes are below, one for light brown sugar and the other for dark brown sugar.
---
Orange Nut Refrigerator Cookies
These cookies can be made ahead days before baking. Prepare the dough, shape into logs, chill and cut when desired.

2 cups flour
1 1/2 teaspoons baking powder
1/4 teaspoon salt
1/2 cup shortening
4 teaspoon orange zest
3/4 cup sugar
1/2 cup light brown sugar, packed
1 egg
1 teaspoon vanilla
1 cup chopped walnuts

Sift dry ingredients together. Cream shortening with zest until smooth. Add in sugars gradually, beating well until very smooth. Add egg and vanilla. Add in flour mixture; mix well. Stir in walnuts. Shape dough into 2 logs about 1 1/2 inches diameter thick. Wrap in wax paper and chill. Slice and bake on baking sheets at 375°F for 10 minutes.
_________________________

Butterscotch Pie
This pie is sweetened entirely with dark brown sugar.

6 tablespoons butter
1 cup dark brown sugar, packed
1 1/4 cup water
1 yolk
1 tablespoon plain gelatin
1/4 cup water, cold
1 pint vanilla ice cream, removed from carton and cut into chunks
Prepared nut crust, such as almond, baked and completely cooled.

Sprinkle the plain gelatin over the cold water, stir then let sit while the sugar mixture is being prepared. In a saucepan, melt butter then add in the dark brown sugar and water. Bring to a boil. Temper in a little of the hot mixture to the beaten yolk, then add this warmed mixture back to the saucepan. Stir well. Add in the softened gelatin to the hot sugar mixture in the saucepan and stir until the gelatin dissolves. Remove from heat and add in the the ice cream; stir until all is melted. Transfer mixture to a large bowl and place in refrigerator until thickened, but not yet set. Pour this into the prepared crust, and chill until firmly set. Garnish with whipped cream if desired.
---
References used:
Ingram, Christine. Cooking Ingredients: The ultimate photographic reference guide for cooks and food lovers.
New York: Hermes, 2002.
Twelfth Edition Cook Book Committee. Fredericksburg Home Kitchen Cook Book. 12th Ed.
Fredericksburg: Fredericksburg PTA, 1978.
Gisslen, Wayne. Professional Baking. New York: John Wiley, 1985.
Claiborne, Craig. The New York Times Cook Book. Revised Edition. New York: Harper, 1990.
"Quick Bread Primer." King Arthur Flour. King Arthur Flour, 2014. Web. 29 Aug. 2014.
Image of brown sugars courtesy Wikimedia Commons via a CC license.
Renee Sheltonon
---