What variety of apple is best for apple pie?
By Renee Shelton
---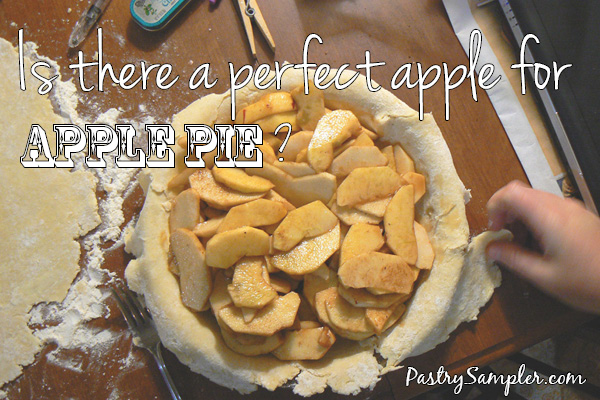 I may make some apple pie 'experts' cringe, but when I want to make apple pies at home, I use whatever apples I have on hand, which usually are Galas since that is our family's favorite eating apple. But there are many suggestions for the best apples, and here are a few "apple reviews" for pies listed below. As you will read, the suggestions are varied with each tester having his or her own experience with the apple varieties. As you experiment with apples, you may come to the same or completely different results than those below.
---
From The Apple Cookbook, here are some good varieties for apple pies and for cooking with because of their ability to hold their shape during cooking and/or flavor:
Bramley's Seedling, Granny Smith, Gravenstein, Jonathan, Lord Derby, Malling Kent, Melrose, Newton Wonder, Newtown Pippen, Northern Spy, Reine des Reinettes, Rhode Island Greening, Rome Beauty, Sturmer Pippin, Winesap.
_________________________
From The Perfect Recipe, the author Pam Anderson suggests a mixture of apples (ones that keep their shape during cooking and ones that go soft but help to thicken the pie). Her suggestions for both apples that keep their shape and soften during baking:
Apples holding their shape during cooking: Braeburn, Golden Delicious, Granny Smith, Jonagold, Rome Beauty, Winesap.

Apples that do not hold their shape, that go soft during cooking: Cortland, Empire, Macoun, McIntosh.
_________________________
From Cook's Illustrated library series, How to Make a Pie, they tested apples and found the worst and best in their kitchen. This book had a great suggestion on finding a good apple for pies - one that I have since adopted after first reading it - and that is to taste it first. If the texture is firm, flavor is good and is juicy, then it will most likely make a good pie. What a great suggestion! According to this book:
The best: Golden Delicious, Baldwin, Macoun, Northern Spy, Ida Red.

The worst: Rome Beauty, Red Delicious, McIntosh, Granny Smith.
_________________________
According to the web page from the Washington State University's Horticulture Club, they have suggestions for excellent and very good varieties for pies. Incidently, from the same page it says that Washington state is the top producer of apples in the country with Red Delicious accounting for 70% of the all apples varieties grown (in the state). For fun, it also answers questions such as: What makes apples turn red? Why do apples crunch? and Why will "An Apple a Day Keeps the Doctor Away" as the old proverb goes?
Excellent: Golden Delicious. Very Good: Granny Smith, McIntosh, Rome Beauty, Jonagold.
_________________________
The Old Farmer's Almanac lists their picks for apple pie as:
Jonagold, Newtown Pippin, Rhode Island Greening, and Winesap.
---
References used and sites accessed:
Hill, Nicola, ed. Basic Ingredients, The Apple Cookbook: More Than Sixty Easy, Imaginative Recipes. Philadelphia: Courage, 1995.
Anderson, Pam. The Perfect Recipe: Getting It Right Every Time-Making Our Favorite Dishes the Absolute Best They Can Be.
Boston: Houghton, 1998.
The Editors of Cook's Illustrated. How to Make a Pie: An illustrated step-by-step guide to the secrets of making the perfect pie.
Brookline: Boston Common, 1996.
Horticulture Club. Washington State University. Archive Article, 2003. Recommended Uses for Washington Apples;
Washington Apple Trivia. Site accessed 26 May, 2005.
"Best Apples for Baking." Best Apples Baking Cooking. Old Farmer's Almanac, n.d. Web. 28 Aug. 2014.
Image of an apple pie courtesy Flickr, user Benimoto, via a CC license.
Renee Sheltonon
---