Halloween cakes can be scary, fun and everything in between. Images above all have a Halloween theme to them. Left is courtesy Wilton, center shows fondant Jack Skellington skulls and below of chocolate web cake, courtesy of the Author, Renee Shelton, and right is a fall-themed cake great for Halloween courtesy of Flickr: User kimberlykv.
Ideas for Halloween Cakes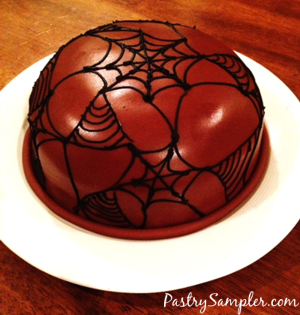 Have a birthday during the month of October, or a party around Halloween? Then a Halloween-inspired cake is in order. There are two different ways to accomplish the task: Scary or fun. Going scary will produce skulls, witches and gravestones, while going fun and friendly will conjour up smiling ghosts and jack-o-lanterns.
Traditional Halloween Images
Traditional Halloween images and characters include witches, bats, ghosts and owls. Green goblins with hooked noses are also fun. Make skeletons and skulls from white chocolate, pastillage, or fondant - they stand out better against black fondant and dark chocolate frosting. If using fondant, make and serve it that day for a softer edible candy decoration. Pastillage bones that are used for display purposes can be prepared weeks ahead and left to dry for a more realistic feel. Try making fingers sticking out of the top of a large cake or from cupcakes using chocolate pretzel molds. Cake picks can be used to accomplish the task, too.
| | | |
| --- | --- | --- |
| | | |
| Green Frankenstein face, courtesy of Flickr: User StarMama through a Creative Commons License. | Mouse & Pumpkin cake, courtesy of Flickr: User cjmartin through a Creative Commons License. | Witch cake using a pirate ship character pan, courtesy of Wilton. |
Modern and Movie-Based Decorations
Halloween cakes can be based on favorite Halloween movies and characters. Jack Skellington from The Nightmare Before Christmas is popular a character for cakes and cupcakes. Make his face from fondant or white chocolate plasticque (candy clay) for a 3-D image for top of the cake. Harry Potter makes a nice backdrop for a Halloween-themed castle. Other movies & characters include Beetlejuice, Scream, The Gremlins, and 'Jigsaw' from Saw.
| | | |
| --- | --- | --- |
| | | |
| Cake based on the movie 'The Nightmare Before Christmas', courtesy of Flickr: User donielle through a Creative Commons License. | Jack Skellington face on pink, courtesy of Flickr: User Nutmeg Confections through a Creative Commons License. | Scream cake using the Megasaurus character pan, courtesy of Wilton. |
Baking Molds for Cake Shapes
Simple yet decorative cakes can be made from cakes baked in different shaped pans then dusted with powdered sugar or drizzled with a chocolate or cake glaze. Use 3-D shaped cake pans for cakes for standing up for viewing all around. Great shapes for Halloween include pumpkins, skulls and bats. Molds for other purposes can be made into a Halloween cake - such as a princess castle cake that is turned into a haunted house. Look at the examples for cakes using baking molds below.
| | | |
| --- | --- | --- |
| | | |
| Haunted House cake above is from Wilton's Enchanded Castle cake pan, courtesy of Wilton. | Jack-o-Lantern 3-D style, courtesy of Flickr: User Apuch through a Creative Commons License. | Ghost cake "BOO" is from Wilton's Spooky Ghost Pan, courtesy of Wilton. |
| | | |
| Glaze or use simple powdered sugar to decorate Wilton's 3-D Skull Pan, courtesy of Wilton. | Ghosts take a ride using the Princess Carriage Pan, courtesy of Wilton. | A plain round cake can easily be dressed up with spiders and a web. Imgae courtesy Flickr: User shekay through a Creative Commons License. |
Last Minute Cakes
Easy start and finishes for cake decorating include using Halloween-themed cupcake baking cups, or use cupcake wraps with Halloween images. Top with candy corn or a sprinkle of Halloween-themed pistoles, sprinkles, or jimmies. Plastic cake picks or easy-to-make chocopicks save the day with last minute cupcakes as easy toppers.
Top cupcakes with Halloween-inspired picks or sprinkles. Image courtesy Flickr: User engenerica through a Creative Commons License.
Spiders are easily made from black-colored icing and licorice for legs. Image Courtesy Wilton.
This spider is made from a soccer ball cake pan, or any hemisphere pan, and decorated with candies and piped icing. Image courtesy Wilton.
Sprinkles, cupcake and cake wraps, and cake picks all make decorating Halloween cakes easy.
Other Ideas for Halloween
Here are some other fun ideas for Halloween-themed cakes. All images from Flickr.com are through a Creative Commons License.
| | | |
| --- | --- | --- |
| | | |
| Mini Ghosts: Simple cut cake pieces glazed and decorated. Image courtesy Flickr: User dizznbonn. | Haunted Forest: Image courtesy Flickr: User TwoKingsConfections. | A haunted house and ghosts holding candles. Image courtesy Wilton. |
| | | |
| The traditional doll cake pan comes in handy for making a Dracula cake. Image courtesy Wilton. | Monster cakes are also popular for Halloween. Image courtesy Flickr: User Thirteenthbat. | Graveyard and haunted house cakes are perfect for the holiday. Image courtesy Flickr: User TwoKingsConfections. |