Peeling Almonds
By Renee Shelton


---
Almonds are a basic element to many recipes and sauces. Blanched almonds that are ground are used in baking and pastry production, and are used for candy making. When only whole, unblanched almonds are available, skinning them is an easy process that takes just a few short minutes. Almonds are a loose-skinned nut, and they literally pop out of their skins. After skinning them, arrange in a single layer on a baking sheet and lightly toast in a 320-325° oven for a few minutes: not enough to toast and to make brown, just enough to dry them out well. And they need to be thoroughly dried before you can store them. Of course, if you need to toast them, simply raise the temperature to 350° F and toast until lightly browned or to desired color.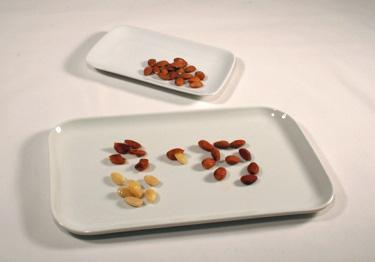 Blanching and Peeling Almonds
Whole almonds with skins

Bring a pot of water to boiling. Add in desired amount of nuts and allow to boil for 2-3 minutes, depending on how much almonds are in the pot. Remove from heat and drain nuts. Allow to cool enough so that peeling the nuts will not burn skin but still warmed, and simply pop the almonds out of their skins. Squeezing from the rounded ends usually assists in removal. When all the nuts have been skinned, allow to dry then dry thoroughly in oven, or toast until desired shade of brown and use in recipes.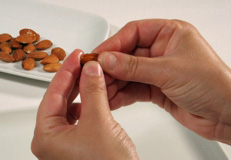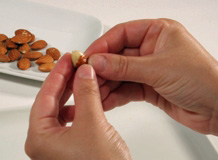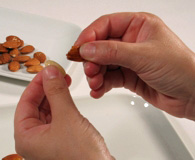 Photos copyright © 2007 Renee Shelton
Copyright © 2004-2010 Renee Shelton.
All Rights Reserved.

Recipes Index
_______________________
Cake Recipes
Frosting, Buttercream,
Icings, Glazes
Cookies, Bars & Biscotti
Confections, Truffles, Candy
Pies, Tarts, Tartlets
Crusts, Shells, Bases
Quick & Yeast Breads
Desserts
Basic Recipes
Frozen, Ice Creams, Sorbet
What the...?
Savory Items for Tea Menus
Industry Recipes, Quantity Scale
Index of Recipes