Dégustation
Lemon

This tasting is all about the lemon.

Recipes Below:

Lemon Ice
Caramelized Lemon Tart with
Shortbread Butter Crust
Lemon Curd
Lemon Brandy Mousse
Lemon Glaze
Soft Lemon Cream Almond Cookies
Lemon flavor can be both light and strong and depending on how it's used, can be a highlight or very intense. Lemon (fruit) is known by other names depending on where you are in the world: limone (Italy), limón (Mexico), limonen (Germany), citrónnier (France) and known as citroen by the Dutch. All of the lemon is used commercially and in the home: the rind, juice, fruit and the oil. Major varieties of the lemon include 'Lisbon' and 'Eureka' (tart) and the 'Meyer' (sweet or less acidic). Other varieties include the 'Bears's', 'Harvey', and 'Ponderosa', all tart, and the 'Dorshapo' and 'Millsweet' which are sweet/non-acid lemon varieties. The fruit is widely recognized as being oval to roundish in shape, having yellow to bright yellow skins with a pulp that is pale yellow and flavor ranging from very acidic to mild.
Lemon is generally grown from seed, while commercially grown citrus is grafted or budded to rootstock to ensure uniformity. Lemons can grow in most soils but is temperature sensitive, being less able to recover from frost or freezing temperatures. Since lemons are sensitive to rough handling, it is common practice to spot-pick by hand: picking lemons from the tree that reach a certain size. Commercially, after picking, grading, washing, waxing, and crating, lemons are 'cured', or stored at a constant temperature with regulated humidity. Green lemon fruit may be held for longer periods until the skin turns yellow and the juice percentage goes up. Some producers use an ethylene gas to speed up degreening, but this also speeds up decay of the fresh fruits.
In pastry, lemon peel is used to flavor and texture baked and freshly prepared items, lemon oil and extracts to flavor candies and confections, lemon juice for mousses, curds and sauces, and fresh lemon is used in prepared pastries.
Lemon flavor is also found in many herbs such as lemon balm, lemon thyme, lemon basil, lemon verbena, lemon mint and lemongrass. These popular herbs can be easily incorporated in any culinary herb garden for both savory and sweet applications.
Here are recipes containing lemon.
____________________________________________
Lemon Ice
Intensely sweet and tart, this is a refreshing addition to a summer menu.

1 c sugar
2 c water
2 t finely chopped lemon peel
2/3 c freshly squeezed lemon juice

Bring the sugar and water to boil and add in the lemon peel. Allow to cool and pour into an 8 inch by 8 inch glass baking pan and freeze until slushy around the sides. Remove from freezer and mix until no lumps remain. Place in freezer and freeze until almost solid. Remove from freezer and beat until no lumps remain. Repeat procedure. If completely solid, simply remove from freezer and let stand about 15 minutes to soften and beat. The result is a lemon ice that is powderedy with soft crystals. The finely chopped lemon peel will give it some texture. Can easily be made ahead.
____________________________________________

Lemon Curd
This traditional curd is cooked in a bowl set over simmering water. Using a stainless steel whip instead of a wooden spoon gives it a lighter texture when done. You can substitute finely chopped lemon peel for the grated if you prefer that texture.
4 eggs, large
1 c sugar
1/2 c freshly squeezed lemon juice
1/4 c unsalted butter
2 T lemon peel, grated
Beat eggs to break up yolks, then add all ingredients to the eggs. Place in a large stainless steel bowl set over simmering water and using a large wooden spoon, stir until thickened. Mixture will be very hot when done, and thickened, and when tested, will leave a clean path on the back of the wooden spoon. Transfer to a shallow container and allow to cool before placing in the cooler. Use within a week.
____________________________________________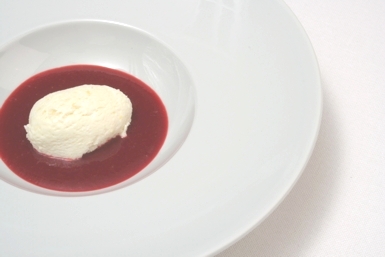 Lemon Brandy Mousse
The addition of brandy cuts down on the sweetness, and makes it a good base for many fruit dessert applications.
Yolk Mixture:
4 yolks, large
1 T finely chopped lemon peel
1/2 c freshly squeezed lemon juice
2/3 c sugar
Gelatin Mixture:
1 envelope gelatin
1/4 c brandy

2 c whipping cream
For the yolk part: mix yolks, chopped lemon peel, lemon juice and sugar in a large stainless steel mixing bowl set over a pan of simmering water. Using a stainless steel whisk, beat until thickened and done; mixture will be very hot and thick. Place in the bowl of a stand up mixer and using a whip attachment, whip using medium speed until cool, thickened and lightened.
For the gelatin mixture: sprinkle the gelatin powder evenly over the brandy in a small glass dish. Let bloom for 5 minutes. Place the glass dish over a pan of simmering water and stir until melted. Remove from the water and allow to cool until warm; not hot.
For the Mousse: Transfer the yolk mixture from the mixer bowl to a large mixing bowl. Rinse and dry the mixer bowl (or use a second mixer bowl if available) and add in the whipped cream. Using the whip attachment, whip the cream until soft peaks appear; do not overwhip. Reserve.
In the large mixing bowl, whisk in the gelatin mixture, then fold in the whipped cream. Pour or spoon this into individual dessert glasses, or transfer this mousse into a container in the cooler, covered, until set up. Can be spooned into quenelles, or scooped as needed. This is also a great mousse to be used in a mousse cake as it sets up well.
____________________________________________
Soft-Baked Lemon Almond Cream Cookies
These cookies are cake-like, and the lemon zest gives it a naturally light lemon-yellow color.
Sliced almonds, lightly toasted, as needed, about 1/2 cup
1/2 sugar
1/2 c brown sugar, packed
2 eggs, large
1 c cream
2 c flour
1 T finely grated lemon zest
1 t baking soda
1/2 t salt
Mix the sugars and eggs in a large mixing bowl. Add in the cream. In a separate bowl stir together the flour, zest, baking soda and salt; incorporate this into the cream batter.
Using a teaspoon or soup spoon, spoon the batter onto a sheet of parchment paper over a baking sheet. Sprinkle with sliced almonds, and bake in a 350°F oven until browned around the edges. The cookies will be soft and cake-like. Cookies are best if used same or next day.
____________________________________________
Lemon Glaze
Use this recipe for glazing cakes, tea breads, coffee cakes, etc.
1 c powdered sugar
1 to 3 T freshly squeezed lemon juice
1/2 t vanilla
Sift the powdered sugar and add the vanilla. Stir in enough lemon juice to desired consistency.
____________________________________________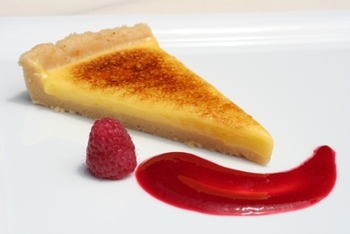 Caramelized Lemon Tart with Shortbread Butter Crust
This recipe is for an 11 inch fluted tart pan.
Crust:
2 3/4 c packed shortbread cookie crumbs (ground in food processor)
8 T unsalted butter, melted
1/4 c powdered sugar
Filling:
2 eggs
3 yolks
3/4 c sugar
1/2 c freshly squeezed lemon juice
2 t finely chopped lemon peel
1/2 c unsalted butter, cut in tablespoons
Granulated sugar for caramelizing
For the crust: Mix the crumbs, butter and sugar until combined. Pour mixture on the bottom of the tart pan. Start by pressing on the bottom to firmly pack and then work up the sides. Press until there is an even layer of crust on the bottom and sides of the tart pan. Chill; reserve.
For the filling: Place eggs, yolks, sugar, lemon juice, and chopped lemon peel in a large stainless steel mixing bowl set over simmering water. Whisk with a stainless steel whip until thickened and light. Mixture will be very hot; be careful not to overcook. Remove from heat and stir with a wooden spoon for a couple of minutes. Slowly add in the butter pat by pat, stirring a pat until it is melted before adding in another pat. Cool to room temperature, covered and stirring occasionally, then pour into reserved crust. Using an offset spatula, spread until even and cover the top with plastic film. Chill until firm, at least an hour or two.
For decoration, you can cut slice into individual portions and caramelize on the individual plate, or caramelize the entire tart and bring to the table for service. For caramelizing: sprinkle an even layer of granulated sugar over the surface. With a flame torch, wave back and forth over surface until the sugar is caramelized. Allow to cool to a crisp caramel before serving.
Pictures Copyright © 2007 Renee Shelton.