The Music of a Chocolate Violin
By Renee Shelton


---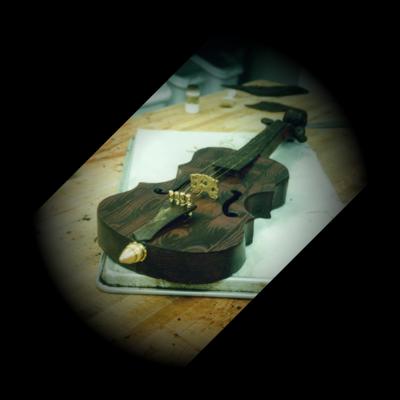 The chocolate string instruments are assembled as follows:
The back part of the violin is made of a sheet of
tempered chocolate that is cut out in the shape
of the violin. The sides are made of strips of tempered chocolate that have a wood colored imprint on them. (See below to create wood imprints on chocolate.) The sides and waist of the violin are placed and "glued" with melted chocolate while the sides are still yet soft, or not yet set up, to mold them into shape. The sides follow the shape of the violin bottom (back).
Next, the top of the violin is made, or the belly of the violin.It has a wood imprint on it as well. This is the most decorative part. The F-holes are cut out. Out of solid chocolate, the bridge, fine-tuners, tailpiece along with the fingerboard, turning pegs and scroll are made. The bridge and the fine-tuners are painted with a gold dust mixture.The tailpiece is only lightly dusted with the gold dust. Fine thread is fastened to the fine-tuners through the bridge to the turning pegs. The thread is then glistened with real gold dust. The bow is made of solid chocolate.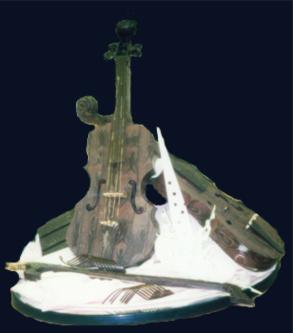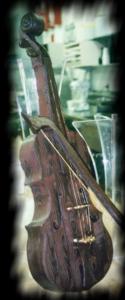 Pastry Chef Jacques Laurent painting the finishing gold highlights on a chocolate violin.

Photos taken 1996 by Renee Shelton inside the main pastry kitchen, Ritz Carlton, Laguna Niguel.

Wood Imprint on Chocolate:

To create this, first melted, colored chocolate (different shade than the background) is placed on strips of special plastic (thin shiny sheets made for chocolate work). Then, while still wet and with a rocking motion, tempered chocolate is scraped with a rubber wood-like decorative comb. This is let to set, then a layer of tempered dark chocolate couverature is placed upon it and smoothed with an offset metal spatula to the desired thickness. When the second chocolate is set, the thin plastic backing is removed revealing the design. The chocolate is cut right before the chocolate sets.
Copyright © 2004-2010 Renee Shelton.
All Rights Reserved.

Recipes Index
_______________________
Cake Recipes
Frosting, Buttercream,
Icings, Glazes
Cookies, Bars & Biscotti
Confections, Truffles, Candy
Pies, Tarts, Tartlets
Crusts, Shells, Bases
Quick & Yeast Breads
Desserts
Basic Recipes
Frozen, Ice Creams, Sorbet
What the...?
Savory Items for Tea Menus
Industry Recipes, Quantity Scale
Index of Recipes